So as things turned out, Meghan didn´t leave Ecuador... She couldn´t.
She got tot the ticket counter and the Airlines wouldn't take her ticket that was printed by expedia. Her name was in the computer and they still couldn't accept it.
Needless to say, we went the the airline headquarters and got them to make an exception and change her ticket to Tuesday. After two hellacious days in Quito going from Office to office, She will be able to leave South America. I think we have Expedia to blame for most of our problems and we will be writing them a letter and reporting them to the Better Business Bureau, but take this warning:
Be very Careful if you plan on buying tickets through Expedia, they make many mistakes and tend to blame others.


So I will probably not be going to the Amazon based on our time disposition. It takes a long time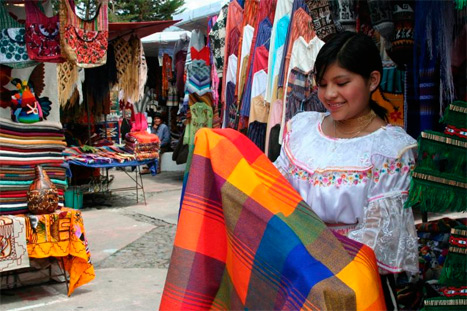 to get around, and a long time to get there. I guess I´ll have to save that for the next trip.
Tomorrow we are going somewhere for a few days, we just don´t know where. It will either be another Hot spring town or the northern Sierra around the indigenous market town of Otavalo.
I would normally say, these are Latin Companies and they function differently than American companies, and they tend to make these mistakes, but that would be a lie. America f-d up, well Expedia f-d Up.
Anyhow, I´ve been eating strange food here, probably a lot different than you would think:
for lunch I had a Mexican Burrito and for dinner I had Mongolian Barbeque. Last night, I had Italian food after a Thai lunch.
We´re in Gringolandia the traveler center of Quito, and its so strange. There are bars lighting up many of its streets with food and drinks from all over. There are mostly backpackers frequenting them with a mix of ecuadorians who are interesting in practicing their English or their dancing.
Strange Days.
I leave one week from today. Look forward to seeing you all.